Lantmännen is an agricultural cooperative and Northern Europe's leader in agriculture, machinery, bioenergy and food products. Owned by 25,000 Swedish farmers, we have 10,000 employees, operations in over 20 countries and an annual turnover of approximately EUR 4.5 billion (SEK 45 billion). With grain at the heart of our operations, we refine arable land resources to make farming thrive.
Some of our best-known food brands are AXA, Bonjour, Kungsörnen, GoGreen, Gooh, FINN CRISP, Schulstad and Vaasan. Our company is founded on the knowledge and values acquired through generations of farmers. With research, development and operations throughout the value chain, together we take responsibility from field to fork.
The Lantmännen model
Our assignment is to contribute to the profitability of our owner's farms. Our model creates long-term returns for the farmers. The profit goes back to their farming businesses, money that can be reinvested on the farm, as well as being invested in research and development. This way we make farming thrive, as well as contributing to a living countryside.
---
The farmer in focus
We are both a business partner for agriculture, and a part of consumers' everyday lives. With grain as our basis, Lantmännen is all the way from the field and seeding to the final product. Here you get a taste of what we do - together we take responsibility from field to fork to make farming thrive.
Lantmännen produces and sells most of what the agricultural business needs. From us, farmers buy both seed for their fields and food for their animals.
Lantmännen imports and sells the tractors and machinery needed to till the soil and provides parts and service in our workshops across the country.
We also offer a wide range of fertilizers, plant protection, stretch film, nets, plastic and much more. You could say that we're like a very big country store.
Safe investments
Practicing agriculture often requires large investments. That's why Lantmännen helps with the financing of important purchases. We offer guidance, loans and rental of equipment to ensure that Swedish farmers can make safe investments for the future.
To create long-term value and stability for our owners, Lantmännen also jointly owns companies working with everything from cultivation to processed products across the entire Baltic region.
We buy from our owners
Lantmännen is Sweden's largest buyer of grain, oilseeds and pulses. During harvest season from July to September our grain receptions receive millions of tons of grain each year.
We buy grain from the entire Baltic area that we sell not only in Sweden, but also to countries in Europe, North America and North Africa.
Good food from Lantmännen
From the grain that we purchase we produce and sell bread, flour, pasta, pancakes and more. The wheat that has been quality-controlled at our grain receptions is for example transported to our mill in Malmö where it is grounded into flour and then sent to our pancake factory in Laholm. From wheat we also make glucose syrup, starch and more that can be used for instance when making confectionery and ice cream.
Breakfast, pasta and crisp bread
Through brands such as AXA, Kungsörnen and Finn Crisp, we sell muesli and other breakfast products, pasta and crispbread. Järna is where we make our pasta from Kungsörnen, and is also the home of the Gooh-kitchen, where our ready meals are cooked by chefs with great respect for fresh products of the highest quality.
We sell all of this and much more to bakeries and restaurants as well as straight to your grocery store. Look for the green sprout emblem on our packaging when you go shopping!
Lantmännen is also the largest producer of sustainable ethanol in the Nordics. We make it from grain in Norrköping, Sweden, and it is used as fuel for cars and buses.
Ethanol production offers a product called DDGS (distiller's dried grain and solubles), which is an excellent base for making protein-rich animal feed. Carbon dioxide, once collected from the atmosphere by the growing grain, is also released during the manufacturing process. Therefore we cooperate with AGA/Linde to exploit this gas, which is used when carbonating soft drinks and for many other applications.
A lot of oat husks are left over from the production in our oat mill in Järna. Previously these shells were seen as waste, but today we use them as fuel and get enough energy to power both the mill and 1,500 households in the nearby area. In this way, we have managed to make the oat mill in Järna totally self-sufficient and fossil-free in terms of energy.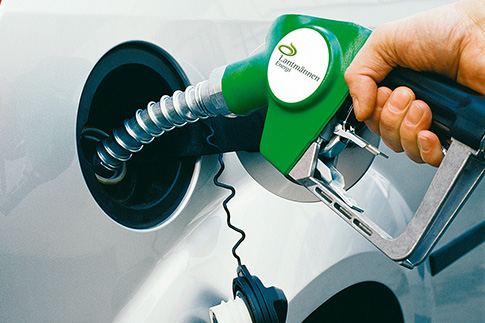 Lantmännen Reppe refines wheat into different kinds of food commodities, such as glucose syrup and starch. Reppe also has one of the largest distilleries in the Nordics and produces premium vodka for the beverage industry.
We develop the agriculture of the future
Lantmännen invests approximately 250-300 million SEK per year in research and development. The grain is the main focus, which is the raw material we know best. Through innovation, we make grain healthier to eat and even more productive to grow, to make our agriculture as efficient and environmentally friendly as possible.
We fund a number of research projects through the Lantmännen Research Foundation and have a worldwide research network with universities and other institutions. Thanks to our investments and collaborations within the research field, we have leading and sustainable products that we can sell to farmers and consumers in Sweden as well as the whole world.
One result of our research is the patented plant protection method ThermoSeed™, developed by Lantmännen Bioagri. ThermoSeed™ is a way to biologically treat the seed to protect it against infestation, without additives.
Lantmännen has also developed a metal paint for roofs that is based on rapeseed oil, which has become an export success. The paint is made with rapeseed methyl ester and is both more durable and better for the environment than traditional roof color, and involves no solvent emissions.
Owned and governed by Swedish farmers
Lantmännen contribute to the profitability of our owners' farms and optimize the return on their capital in the association. As business partners and owners of Lantmännen, they share the Group's profit through dividends. Active involvement and the ability of members to exert their influence through districts, membership meetings, the Council of Trustees, motions and written communication play a crucial role in safeguarding the strength and benefits of the cooperative form of enterprise.
Read more about the Cooperative model
We share our profits with Swedish farmers
Lantmännen has distributed more than SEK 4 billion to its members since the merger in 2001.
Our mission: We make farming thrive

Our assignment
Our assignment is to contribute to the profitability of members' farms and optimize the return on their capital in the association.
Our vision
We lead the refinement of farmland resources in an innovative and responsible manner for the farming of tomorrow.
Our brand promise
Together we take responsibility from field to fork.
Our business concept
We are a farmers' cooperative that creates value from farmland resources in a responsible manner. Our collective knowledge and our operations from field to fork enable us to lead the development in the grain value chain. We operate in an international market, with Sweden as the base for our business activities.
Our Sectors and Businesses
Lantmännen Group's operations are divided into three sectors and two businesses. In addition, Lantmännen Group is a partner in several international companies.
More about the organization