Are you tomorrow's entrepreneur?
A growing population, climate changes, trends and new findings within food science, creates higher expectations on food and agriculture in the future. For these expectations to be met we need entrepreneurship and new ways of thinking. Innovation is the key to a sustainable food production and healthy agriculture.
Are you an entrepreneur with a good idea that you want help to develop further? Lantmännen's Greenhouse is an accelerator focused on innovations within food and agriculture – from field to fork. The Greenhouse is established to create an environment to help develop up-and-coming entrepreneurs or intrapreneurs with their business or idea in order to become a profitable and sustainable long-term.
Each seed is a startup
Greenhouse Foodtech
Scale-up tomorrow's food innovations.
Lantmännen have long been working for a more sustainable food production. We exists in all parts of the production chain for food – from breeding, to the sowing and harvest on the farm, through our factories and lastly onto your plate.
There lies many challenges ahead in order to create a fully sustainable food production. But, with new smart solutions we have the opportunity to increase the health of the people, our societies and our planet. These solutions could be anything from personalized foods and new supply chains, to increased biodiversity and a lower climate impact from products.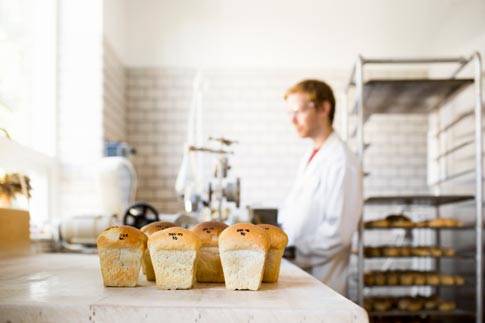 By combining new technology with the needs and ideas within the food industry we can create exciting new products and solutions. This is how we define Foodtech. By utilizing this we are able to develop new nutritious foods and smarter ways to produce and provide food.
In order for a food innovation to truly have an impact beyond the realms of your own kitchen, scale is of the essence. But taking your solution from prototype to industrial scale has its challenges – recipes must be adjusted, calibration of the product through trials in production, an appropriate package needs to be designed, customer requirements needs to be mapped, and much more. In the Greenhouse Foodtech we will help you scale your project in order to truly make an impact.
What is the Greenhouse Foodtech?
The Greenhouse is an educational program offered to anyone that needs business development assistant and access to production facilities in order to scale up your business or idea. The program if conducted together with FoodHills and Ideon Agro Food to broaden our expertise and offerings. The program consists of a series of workshops, finished off with a dragon's den presentation in front of decision making executives at Lantmännen.
The program is free of charge, except for your travels to our workshops. You will remain the sole owner of all the rights associated to your idea/business.
We look for anyone that has an idea or a solution within food production – it could be a product, a production method or anything there in between that takes us one step closer to our vision of the future of food.
Themes that are of interest:
New, healthy and tasteful food products
New and smarter ways of distributing food
Reduced climate impact within all phases of the food production supply chain.
Improvements of the food served in hospitals, schools, retirement homes and similar situations.
In order to take advantage of the opportunity to test run your product or solution we would like to see that you've developed beyond the idea stage and are ready to take it to the next level.
Apply today!
As an applicant you could already be within the food industry – or completely new to it. You could be an entrepreneur, a researcher, a recent graduate – it's open to anyone and free of charge. The program consists of seven workshops in Bjuv in Skåne. The first workshop is on the 18th of October 2018. Take the opportunity and apply today to The Greenhouse Foodtech here! Deadline for applications is the 16th of September.