Dialogue for sustainable development
Dialogue and cooperation are required in order to address these complex issues. Lantmännen wants to join other food chain participants in taking leadership to drive sustainable development in the right direction.
Lantmännen's goal is to have established dialogue in all areas and on special issues that we consider to be business critical and where challenges need to be resolved jointly with other players. These are issues where we must follow the external environment in order to take responsibility, as well as issues where we want to take the lead but cannot make a crucial difference on our own.
The issues identified as most important for Lantmännen to monitor or pursue are summarized in three areas; Thriving farming, Green energy/Bio-economy and Responsibly Produced Food. All with sustainable development as the overall theme. Dialogue on each issue is conducted with several players and through participation in forums and networks.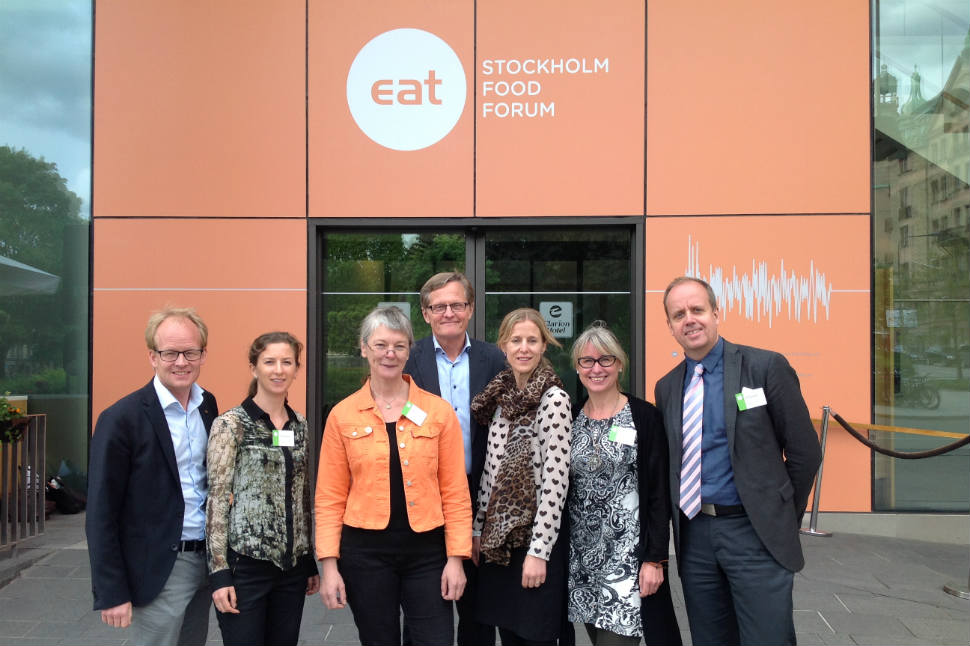 Some of the participants in the Initiative Sustainable Food Chain (from left): Claes Johansson, Lantmännen, Vera Söderberg HKScan, Anna Richert WWF, Kjel Lundén Pettersson Arla Foods Sweden, Maria Smith ICA, Sjöholm Orkla Foods Sweden, Erik Lindroth Tetra Pak.
Photo: Cecilia Sjöholm
Sustainable Food Chain Initiative
Lantmännen is one of the players behind the Swedish Sustainable Food Chain industry initiative, launched at the EAT Forum in June 2015. The aim of the initiative is to work to ensure sustainable food production and consumption is achieved by 2030 through measures in the Swedish food chain. The background is the food sector's complex environmental and health challenges, which require broad cooperation if they are to be resolved.
The initiative's participants, supermarkets and producers from the different food categories, want to take leadership by identifying and implementing measures with a wide impact that make a difference.
In addition to Lantmännen, Arla Sweden, Axfood, Coop, HKScan, ICA, Löfbergs, Orkla Foods Sweden, Polarbröd and Tetra Pak stands behind the initiative, which is coordinated and led by WWF Sweden.
The Haga Initiative
Lantmännen is one of the members in The Haga Initiative. It is a network of companies that works to reduce carbon emissions from the business sector and highlight the climate issue by showing that ambitious climate strategies create business advantages and improve profitability. The Haga Initiative's vision is a profitable business sector without climate impact.
The network also includes: AkzoNobel, Axfood, Coca-Cola Enterprises Sweden, Folksam, Fortum Värme, Green Cargo, JM, Löfbergs, McDonald's, HKScan Sweden, Preem, Siemens, Stena Recycling and Sveaskog.
The member companies in the Haga Initiative launch an annual Climate Report, available in Swedish.
Fossil Free Sweden Initiative
Fossil Free Sweden is a platform for dialogue and cooperation for enterprises, municipalities, associations and other types of actors that are able and willing to work for the goal to have a Sweden free from fossil free fuels. The Initiative wants to pave the way for the transition not just because it is possible but that it is profitable. Approximately 250 actors, Lantmännen is one of them, has committed to work to highlight climate efforts in Sweden and present concrete measures to reduce emissions. Fossil Free Sweden was founded by the Swedish government before the climate summit in Paris 2015.
KNEG
Climate neutral fleet transports on road, KNEG, is a cooperation initiative with a vision of climate neutral fleet transports on the Swedish roads. The purpose is to show how climate impact from the road transports in Sweden can decrease through different activities and how participants can contribute. The work is primarily focused on more efficient transports, fuel production, vehicles and an increased use of renewable fuels. The cooperation started in 2006 and has 13 members.
As members in KNEG, Lantmännen wants to develop solutions within both transport efficiency and bio fuels. Together with other actors, Lantmännen wants to find new business models supporting climate and sustainability targets. Read more about KNEG.
Transparency International Sweden Corporate Supporters' Forum
Lantmännen is elected member of Transparency International Sweden "Corporate Supporters' Forum" that work actively towards transparency, business ethics and integrity through knowledge exhange.
Transparency International is a long-term partner of the UN and works globally to fight corruption around the world via a number of different initiatives. The Corporate Supporters' Forum is oriented to large companies in Sweden that have experience of international operations, not least in high risk environments for example Siemens, Atlas Copco, H&M, NCC, SKF and AstraZeneca.
Cooperation for sustainable soya and palm oil
Palm oil and soya are two raw materials important for Lantmännen but also often associated with challenging conditions for cultivation and complex supply chains. Lantmännen has participated actively in national and international cooperation to contribute to a more sustainable production and to ensure that the volumes we purchase are produced in a responsible way.