Food production accounts for a significant part of the world's greenhouse gas emissions. To curb climate change and ensure productive agriculture tomorrow, climate impacts need to be reduced, particularly in cultivation but also from food processing and transportation. As a food producer and agricultural cooperative, Lantmännen has a responsibility to do what we can for more climate friendly food.
Lantmännen has worked to reduce our carbon emissions and since 2009, the reduction from emissions from own production is over 40 percent.
Cultivation stage is the most important part
In the food value chain, in principle all the primary value for humans is created in the cultivation stage. Carbon hydrates, proteins and other nutrients that humans need are created here. Consequently, the main part of resources are used in the cultivation, and environmental impact in the chain from field to fork occur. To grow and harvest, the soil needs tillage, the plant needs sowing, protection, nutritients and the crop finally is to be threshed and dried, and all these activities have climate and environmental impact. In the cultivation step, carbon is sequestrated in the plant and some of the carbon stay in the land, primarily in the plant's roots and the land can become a carbon sink and contribute to capture carbon dioxide from the atmosphere.

From a life cycle perspective, the carbon footprint of many of our products is greatest in the cultivation stage. The main contributors are biological conversion of nitrogen in the soil, diesel consumption and drying of grain. Production of plant nutrients (commercial fertilisers) also accounts for a significant proportion. To give a complete picture of climate impact from grain production, the carbon sequestration must be included. Today, methodology is not available to quantify the carbon sequestration in a life cycle analysis. Reference: Lantmännen internal data 2018.
Cultivation concept for lower carbon footprint
We are working with farmers to develop cultivation in a more sustainable direction. This involves developing and offering environmentally friendly fuels and services for optimised cultivation, and carrying out research in areas such as plant breeding and biological plant protection. We are also developing grain concepts for grain with a lower carbon footprint.
Climate target: Another 40% reduction in emissions until 2020
Lantmännen's goal to reduce production emissions by 40 percent between 2009 och 2020 was achieved already 2015. Therefore, we have set a new target: To reach another 40 percent reduction until 2020.
The new target includes Lantmännen Group and shall be achieved through the following initiatives:
40 percent reduction in our own production facilities until 2020, compared to 2015

Fossil-free production in Sweden and Norway by 2025, in the rest of the Nordics by 2030 and in all of Europe by 2040

Improved energy efficiency by 3 percent in relation to production volumes, until 2020
At the same time, Lantmännen work with targets and activities to reduce climate impact from agriculture and from transportation. One example is Kungsörnen's "A friendlier wheat" with up to 20% reduced climate impact.
Greenhouse gas emissions in relation to net sales and target for 2020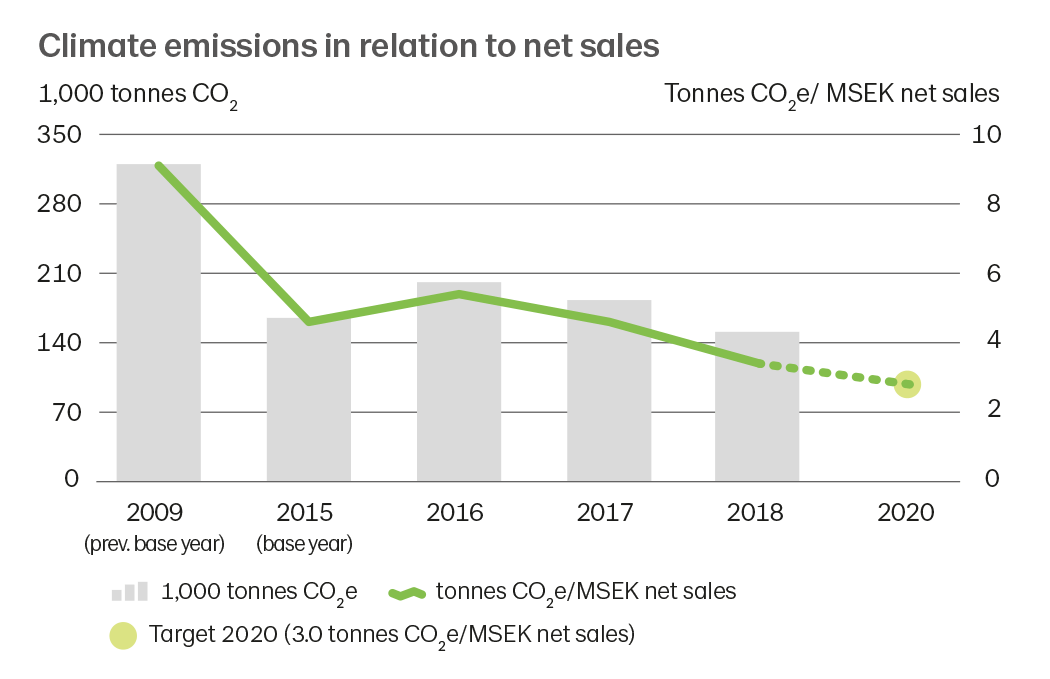 Climate emissions decrease with 26 percent from base year 2015 and the reduction is in line with the climate target fro 2020, 2,8 ton CO2e/MSEK sales.

Lantmännen's total emissions of greenhouse gases per scope, according to World Business Council för Sustainable Development Green House Gas Protocol, see table below. Learn more in Key Sustainability Facts.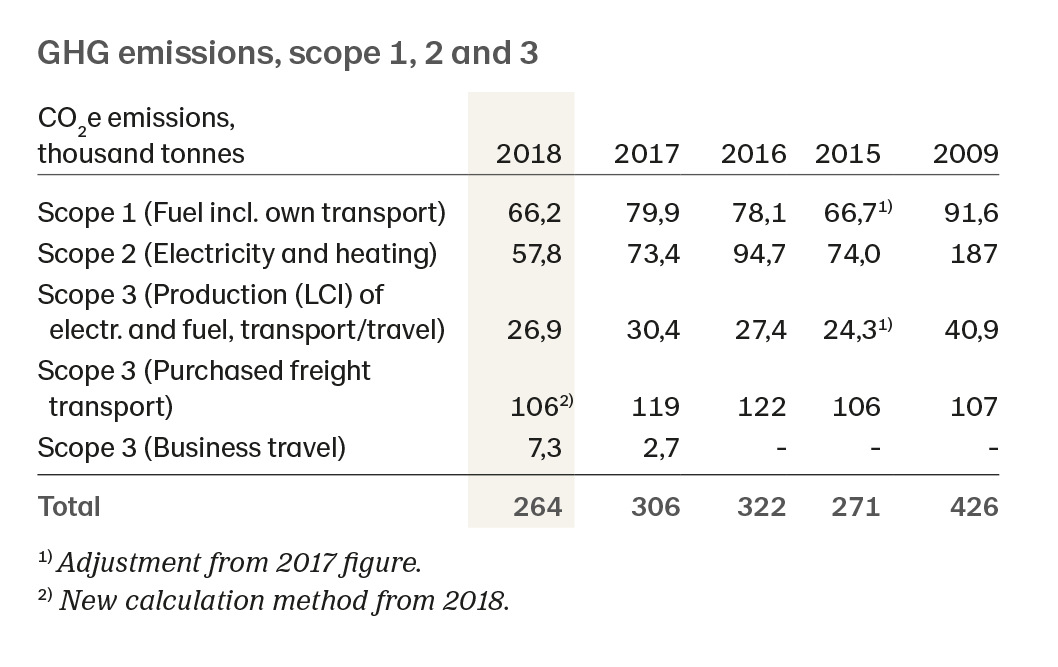 Energy efficiency and fossil free production
An important part of the progress has been the transition from fossil fuel oil to biofuels at our facilities. In several cases, residues from our own production have been used to replace fossil fuels. We are also working systematically on improving energy efficiency at the facilities.
Reduce emissions from transports
Lantmännen is present all the way from field to fork. Along the way, we have transports needing fuel and creating emissions.The emissions must be reduced. More transportation needs to be moved to rail and sea, and the proportion of renewable fuels must increase. In cooperation with our transport suppliers, we are working to improve planning, increase the fill rate and promote eco-friendly vehicles, fuels and driving.
Lantmännen has a target to reduce emissions from purchased transports with 70 procent to 2030, with 2009 as baseyear. The target is an important part of Lantmännen's climate strategy and work to develop business in a more sustainable direction. The result for 2018 is a decrease with 4 percent compared to 2009.
Read more about our cooperations within transports.

Companies in the Haga Initiative
Axfood, Coca-Cola Enterprises Sverige, Folksam, Fortum Värme, Green Cargo, JM, Lantmännen, Löfbergs, McDonald´s, HKScan Sweden, Stena Recycling, Statoil Fuel & Retail Sverige, Sveaskog and Vasakronan.
Member of the Haga Initiative climate network
Lantmännen is one of the 15 companies that are members of the Haga Initiative climate network. The purpose of the Haga Initiative is to demonstrate that it is profitable for companies to take active climate responsibility, to work to reduce the business sector's climate impacts and to push for a more proactive climate policy.